Do you want to learn how to get a US phone number for free in Nigeria?
You are in the right Post.
There are lots of tutorials online that teaches how to get a US phone number for online registrations but almost all of them require you pay a certain amount of money.
Even the free ones are not actually free.
There are tutorials online that suggest you to use an Android App called Text Plus App.
If you download the app to your phone, you will be given a US phone number, you can give to amazon.
Yes, it Works, But! TextPlus is only available to United States Users.
Which means if you are in Nigeria or other Country other than United States the App won't be available for your own Country to download.
You will definitely see "Sorry, this App isn't available for your Country"
So you See?
They are giving you half Information in their tutorials.
I personally tried this, but was unable to download the App. They won't let me download it because am outside the United States.
But I found a Solution.
I was able to download it even while am here in Nigeria and I want to show you!
Having used this App multiple times, I want to show you how to do the same EASILY AND FAST.
Keep Reading…
How to get a US Phone Number in Nigeria for Free
Now you are going to download the TextPlus App successfully using my tricks and get your phone number ASAP.
But if you will like to confirm it, you can try to download without my tricks and you will discover it's not available to you outside the US!
So here is the Trick to Download Text Plus App Outside US.
Step 1: Search and Download Zenmate VPN for Android from Google Play.
Register for Free trial and set the Country to United States.
Go to your Android Setting→Application→All Application→look for the "GooglePlay Store".
Choose Clear Cache only, not Clear data, and then choose Force Stop.
Now open the Google Play and there will be a Pop up Google Play Term of Service, Press Accept.
Now you have accessed Google Play from US.
Click this url to download textplus app again, you will be redirected to google PlayStore.
Below is exactly what you are going to download.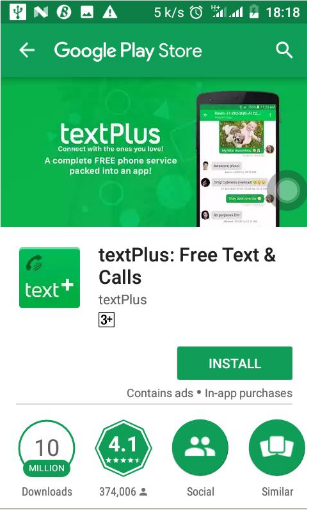 Now Download it quickly and install.
Operating TextPlusNow When it finishes downloading, you need to open the App and click signup, Fill your details such as Email.
You may be asked to confirm your email too. So do it and…
Finally You will be given a US Phone Number.
You can use this phone number for online registrations that require verification via messages, calls etc.
So this is how to get a US Phone number for free in Nigeria.
Useful Links:
How to Open a Bank Account Online in Nigeria in 5 Minutes or Less